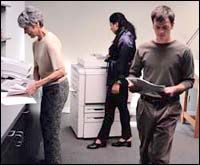 We are here to help!
If there's one thing we've learned over the years, it's that no amount of technology can replace the human touch. During business hours, Jon, Mitch and the rest of the staff are ready and willing to answer your call! Minuteman Press Downtown is proud to promote our experienced staff and talented designers. Let us take your next project from conception to completion!
Every person on our staff is committed to providing you with the best possible customer service and the highest-quality products. This commitment is reflected in everything we do. Ask our current customers, they will affirm that everyone is treated with the respect, kindness and the importance that they deserve.